Oct 1st, WER 2017 US open championship was ceremoniously held in Valencia High School, California, US. Participants from both US and China competed with each other and presented a remarkably wonderful performance. Founder of WER Seminar, Jake Mendelssohn, chairman of organizing committee in US station, Mr Cameron Zadeh and some distinguished guests attended to watch the competition. Abilix educational robots, as the sole designated contest platform for global WER, sponsored and supported the competition, and took full participation all along the way.
A Battle in Industry Era: Robots gave full play to their brilliant abilities
US open championship, continuing the theme of "Industry Era" of WER 2017, dominantly adopted brick robots in the competition and set up different sectors including pitch, extra and team matches. Pitch was a task combination of 4 pre-set tasks and 3 extra tasks, namely, "4+3"; moreover, extra tasks were announced in the phase of debugging before the contest, which fully evidenced the principle of "a real competition for students".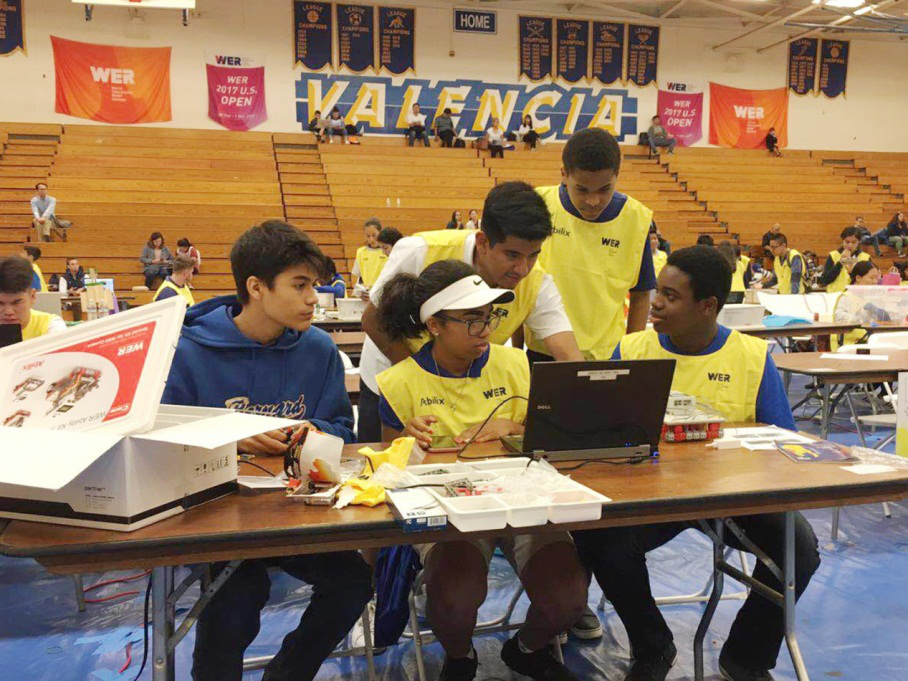 (Players programing for their own Abilix education robots)
Participants built their exclusive robots via building bricks and programming in the arena. Those robots impersonated miners, architects and workers of Industry Era to struggle with a series of tasks in the regulated time, including mining, constructing iron tower and railway, forging metals, transporting commodities and even improving steam machine.
A Layout of Creativity: Witness children's devotion to robotics
Apart from all kinds of fierce competitions, Team Show was exposed under the spotlight, covering both on-site layout of work pieces and vote for mini-videos relevant to "My robot partner" produced by participants.
Shots full of whimsical ideas and wildest fantasies fully interpreted children's rich imagination, whole-hearted devotion to robotics and what they had garnered in the progress of learning robotics.
It was acknowledged that an increasingly number of US children started to get known of educational robot products with enormous values and participate in WER contest due to Abilix penetrating into US market.